Consultancy services

How we work
At the heart of DeltaHedron's service is the relationship between us and our clients. We believe that we can only provide the support you require if we understand your company, its vision, mission and strategy as well as the environment in which you compete and the opportunities and risks you face. DeltaHedron can then bring its expertise and knowledge of innovation and the constantly evolving landscape of emerging technologies to bear.
DeltaHedron delivers a custom-adapted blend of consultancy services and products to support your current and future requirements. The focus is on your specific challenges regarding the management of technological innovation and the strategic business opportunities and risks presented by emerging technologies and the dynamics of technological change to you.
DeltaHedron is a globally-networked company, drawing on a world-wide network of associates with expertise and experience to complement its own.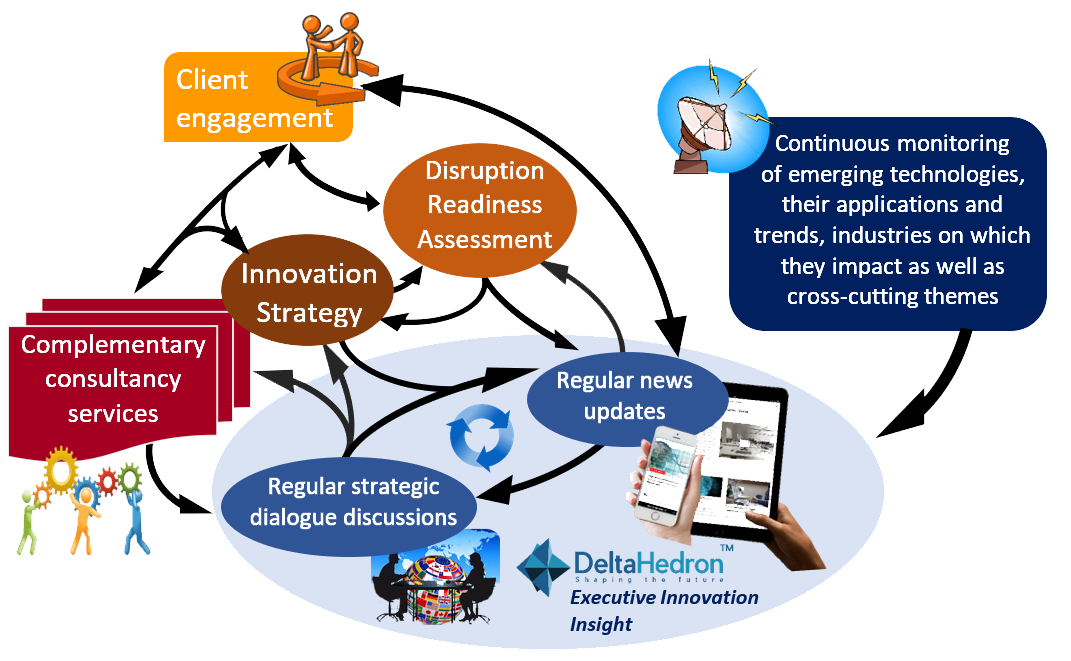 A typical engagement would commence with DeltaHedron understanding your specific requirements and challenges, anticipated opportunities and risks regarding the management of technological innovation and the dynamics of technological change that you face. We gain an understanding of your technological competences and strengths; the technologies on which you, your customers and suppliers (as well as competitors) rely on; as well as the nature of your current and potential markets, customers, business models and competitors.
DeltaHedron offers a range of consulting service outcomes, which are matched to the client's requirements, viz.
• Executive Innovation Insight Personalised technology intelligence support for executives, business leaders, decision makers and board members. This service is indicated by the blue oval in the diagram above.
• Disruption Readiness Assessment Supporting the client to establish the company's 'disruption risk' – either of being disrupted by emerging technologies or the opportunity of being the disruptor.
• Innovation Strategy Development of an innovation strategy and inputs to corporate strategic plans.
•Management of technological innovation Consultancy regarding broader aspects of the management of technological innovation.
• Bespoke assignments Special projects, competitive intelligence assignments and research, as well as facilitation of access to technical experts, scholarly publications and conference proceedings.
• Presentations Presentations to boards and councils, management, staff, clients and conferences.
•Executive education and capacity building Executive education and supporting the establishment of in-house capacity in the your company.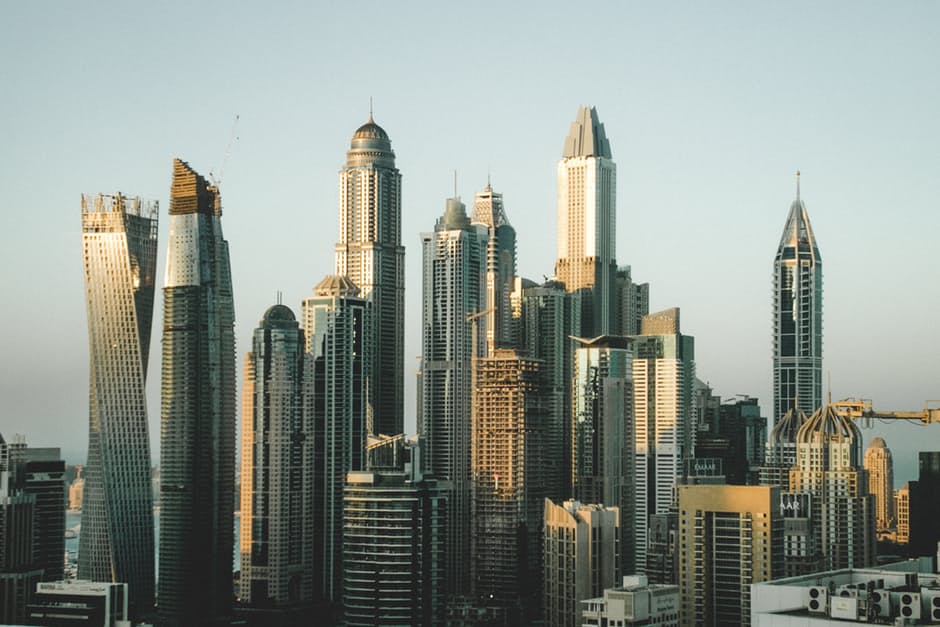 Large Companies
Large companies typically have in-house technology expertise, comprehensive infrastructure and formal governance structures which include a board and audit committee. They often have a technology presence on the board and at the senior executive or director level, perhaps with a Chief Technology Officer (CTO), technology strategists, Chief Information Officer (CIO) and an IT Department as well as an R&D group and other technical expertise.
DeltaHedron can complement the company's internal scanning of the emerging technological landscape and analyses of emerging technologies, and undertake in depth analyses on client-specific needs.
Learn More
Small and medium enterprises (SMEs)
Small and medium enterprises are well positioned to pursue the business opportunities presented by emerging technologies. At the same time, they are also exposed to strategic business risks presented by emerging technologies and technological change. However, they often do not have the internal resources or expertise to identify the opportunities and to assess and manage the risks and threats. SMEs are usually very aware of technological developments closely associated with their own technological competencies, but often lack resources to continuously scan the wider technological landscape. Hence, they may miss opportunities presented by emerging technologies coming from other sectors. This exacerbates the risks, since disruptive technologies often come from very different industries than the ones which they disrupt.
Learn More
Business consulting companies and audit firms
are, like all other businesses, also exposed to the strategic business risks presented by emerging technologies and technological change. From a consulting and audit viewpoint however, DeltaHedron can also provide its services in a cooperative partnership model to other consulting companies who may not have the specific expertise or resources to address their clients' needs in the areas where DeltaHedron has expertise.
Learn More
"We are constantly faced by great opportunities brilliantly disguised as insoluble problems"

Lee Iacocca
Investors, venture capitalists and fund managers
are interested in the risks that the companies they invest in, face. DeltaHedron can provide consultancy regarding the strategic business risks, threats and opportunities that particular emerging technologies present and the nature of the industry disruption that may be expected in various industries. The analysis can also be focused on specific companies or sectors.
Learn More
Higher Education
DeltaHedron can facilitate with industry-university engagement and technology transfer, and provide consultancy with regard to business and technology incubators, innovation labs and science/techno parks. Regular updates on emerging technologies and their impact can be useful to universities as an input to their research strategies, funding applications and assessment of research impact.
Learn More
Government
on the national, regional and local levels have requirements to develop and implement innovation systems, policies and strategies, which also overlap with industrial strategies, economic development and regeneration as well as competitiveness strategies. In addition to assisting with the development of policy and strategy, DeltaHedron can also assist in establishing mechanisms and systems for the provision of technological, scientific and innovation advice to government and its agencies.
Learn More
DeltaHedron Engagement Matrix
The diagram shows DeltaHedron's Engagement Matrix, indicating our core areas of expertise and how they support the consulting service and decision support we provide to our clients